Mohali Chandigarh Distance – How & Ways To Reach
If you are here, you basically want to know the Mohali Chandigarh distance. Actually, it is the beauty of Tricity, which includes Chandigarh, Mohali, and Panchkula, that attracts a lot of tourists every year. This article covers not only the Mohali-Chandigarh distance but also the different ways to travel from Mohali to Chandigarh.
Additionally, the time taken on each route and related information are important. So, if you are planning to travel from Mohali to Chandigarh, read the full article to not miss out on any information.
About the Beautiful Mohali City
Mohali, which is also known as Sahibzada Ajit Singh Nagar, is a developing city in Punjab situated southwest of Chandigarh. Mohali already has a lot of development in terms of infrastructure, universities, the healthcare sector, and others. The Punjab Government is taking multiple steps to make Mohali the future city of Punjab.
Mohali is developing to become Punjab's IT Hub. There are many new projects which are starting in the real estate, healthcare, IT sector, and other sectors in Mohali. Big companies and industries are interested in this developing city, and Mohali's progress and development as a city are quite evident.
Mohali is a hub for some of Asia's top companies. These companies include names such as Tata Communications, Godrej, Vodafone, and also some global tech companies like Philips and Quark.
Not just that, Mohali is also famous as a tourist spot. Some of the famous places in Mohali which attract tourists are Mohali Stadium, International Hockey Stadium, Fateh Burj, Sukhna Wildlife Sanctuary, Gurdwara Angitha Sahib, Gurdwara Amb Sahib, Rose Garden, Mansa Devi Temple, and others. You can also check the best places to visit in Mohali. So, your urge to know the Mohali Chandigarh distance is obvious.
About Chandigarh City
Chandigarh is a city, district as well as a union territory and is the joint capital of Punjab and Haryana. It is India's first planned modern city. According to reports, Chandigarh ranks the highest in per capita income in India.
This city is also known as 'The City Beautiful.' It is because its name is derived from the 'Chandi Mandir' temple, which is situated in the vicinity of the site of Chandigarh. The deity 'Chandi' is the goddess of power, and a fort of Garh, which lies beyond the temple, gave Chandigarh the name – The City Beautiful.
Chandigarh is a well-developed city with modern architecture. It is one of India's finest cities and also ranks the highest in India on the Human Development Index.
The pleasant tourist attractions in Chandigarh are worth visiting. Some of the major tourist spots in Chandigarh are Nek Chand's Rock Garden, Sukhna Lake, Government Museum and Art Gallery, Butterfly Park, International Dolls Museum, Pinjore Garden, Nada Sahib Gurudwara, Le Corbusier Centre, M.C. Zoological Park, Japanese Garden, and others.
Because of so many touristic places, if you want to extend your Mohali trip to Chandigarh is absolutely right.
Mohali and Chandigarh Location Details
The longitude and latitude of Mohali are 76.72 and 30.7, respectively. The latitude and longitude of Chandigarh are 76.78 and 30.73, respectively. All these are factual demographical information. Continue reading to know more about the exact distance and time needed to travel all the way from Mohali to Chandigarh.
Mohali Chandigarh Distance
The total calculated straight line distance between Chandigarh and Mohali is 6 KM and 700 meters. Since this is a straight-line distance, the time taken to cover the actual distance between Chandigarh and Mohali might vary. This happens because of the curvature of the road and also the traffic.
When calculated in miles, Chandigarh and Mohali have a distance of 4.2 miles. Also, The calculated time difference between the two is 0 hours, 0 minutes, and 14 seconds.
Different ways to travel from Mohali to Chandigarh
Mohali-Chandigarh Distance Covered By Bus
The time taken to travel from Mohali to Chandigarh is 0nly 15 minutes. Now, this depends on which bus you are traveling on. Different buses have different routes and differences in the number of stoppages. The time difference can also increase due to traffic, road curves, bad climate, or any other factor.
The bus fare starts from INR 477 per person. There are different kinds of buses available to cover the Mohali Chandigarh distance, which include ordinary buses, non-AC, AC, or CTU buses. Thanks to the strong CTU network Tricity is very strong.
All the buses take safety measures, and the seats are well-cleaned and well-sanitized. There are many buses available at different times, from morning to night.
You can book your bus tickets online from Mohali to Chandigarh without any hassle on MakeMyTrip.com, Yatra.com, RedBus, BestBus, and CTU. There might also be some offers and discounts available on these sites.
You can also check the details of the bus operator, the fare, the timings, amenities provided, and other information on their official sites. You can make the payment online. Different payment methods are available on the sites.
Mohali Chandigarh-Distance Covered By Cab
Another way to go from Mohali to Chandigarh is by taking a cab. It is an easy and more comfortable option. The total time taken to travel from Mohali to Chandigarh by cab is just 18 minutes. The time may vary depending on the route, the traffic, bad weather conditions, or other issues.
The online sites you can check to book your cabs to cover the Mohali-Chandigarh distance are AHA Taxis, Uber, Ola, InDriver, etc. The fare for the cabs varies according to the time, distance, and weather conditions of the day. You can book any cab based on your budget and the number of people you are traveling with.
The cabs are properly sanitized after every ride. Moreover, they are polite and soft-spoken. So there are no risks if you are traveling in a cab.
To get complete information about the price, availability of cabs, timings, and payment options- check the official website of the cab booking sites.
Mohali-Chandigarh Distance Covered By Train
There are chances that you are coming to Mohali via train, so you can skip the hustle and bustle of the city by choosing the train as a mode of convenience. There are 12 direct trains available from SAS Nagar Mohali to Chandigarh Junction. Moreover, there are 10 daily trains, 1 weekly train, and 1 bi-weekly train available.
The total distance the train travels to cover the Mohali-Chandigarh distance is approximately 11 km. The travel time is anywhere between 17-25 minutes. This depends on the type of train you choose. The time taken might increase due to routes, bad weather, or any other conditions.
The train fare starts from INR 70 and can go up to INR 1200. This depends on the train and the type of seat you book. However, the seats are sanitized, and all the Covid-19 protocols are strictly followed. You can book any train based on your budget.
For full information regarding the availability of trains, ticket price, timings, and other important information, you can visit railyatri.in, NTES train inquiry, indiarailinfo.com. It is best if you book tickets a few days in advance. This way, you can easily get seats according to your desired timings. You can book your emergency tickets 24 hours in advance.
Mohali-Chandigarh Distance Covered By Flight
The total distance a flight has to cover between Mohali and Chandigarh is 7 KM. But there are no flights available to travel from Mohali to Chandigarh as the distance is not that much.
The nearest airport in Mohali is Shaheed Bhagat Singh International Airport. The nearest airport in Chandigarh too is Shaheed Bhagat Singh International Airport. You can easily travel from Mohali to Chandigarh by bus, train, or Cab.
Conclusion
You can choose any of the above options to travel from Mohali to Chandigarh. It is advisable not to travel via train because it will involve the hassle of booking the train a lot of days in advance.
Sometimes there is a train delay, so you might need to wait for a long time, which will unnecessarily increase your travel time. So to avoid exhaustion and time consumption, it is better to avoid trains.
Traveling by bus or cab is affordable, comfortable, and safe too. Mohali and Chandigarh are both fantastic places to live or travel. Both are modern cities with all the facilities. The scenic beauty and the wonderful tourist spots in both cities attract a lot of people from different parts of India.
Both the places have great hotels and restaurants too. So accommodation or food will not be a problem. You will get full information about the price, amenities, and other information about the hotels on the official website of these sites.
Gurudwara Amb Sahib Mohali History, Location, Contact Number – A Complete Guide
There are many religious and historical places that are associated with Sikhism. One such revered shrine is Gurudwara Amb Sahib in Mohali which holds great significance among the devotees. This Gurudwara holds great importance in terms of religion, history as well as fulfilling the desires of the devotees.
In this piece, you will find out the reasons why devotees have so much belief in this place and how it becomes one of the most important shrines of the Sikh community. Also, you will find out how this place was named after Amb (Mango) and the right time to visit this beautiful Gurudwara.
Historical Significance of Gurudwara Shri Amb Sahib
This historic site holds great importance in the history of Sikhism. This holy Gurughar has been built in the memory of Seventh Guru "Shri Guru Har Rai Sahib Ji."
The tale started from the time a devotee named Bhai Kuram Singh Ji of Village Lambia reached Amritsar to pay respect to the fifth Guru "Shri Guru Arjan Dev Ji." 
During this gathering, people were offering gifts to Guru Ji according to their abilities. A group from Kabul presented a gift of mangoes (ambs) to Guru Sahib. Bhai Kuram Ji felt a bit disappointed that he, being from a region known for mangoes, hadn't offered such a gift. 
When everyone received mango prasad in the evening, he refrained from partaking. Instead, the next morning, he gave those same mangoes to Guru Arjan Dev Ji.
Curious, Guru Sahib inquired about this action. Bhai Sahib humbly explained that although he had received the mangoes as prasad, he felt it was appropriate to offer them back since he hailed from a land of mangoes. Impressed by his sentiment, Guru Sahib said he would enjoy mangoes in his seventh lifetime.
Later, the seventh Guru, Shri Har Rai Sahib Ji, arrived at this place from Kurukshetra in mid-December. He requested mangoes from Bhai Kuram Ji, who politely explained that mangoes weren't in season. 
He entrusted Guru Sahib's divine power, suggesting that anything was possible for the almighty Guru. To his astonishment, when he looked up, he saw the tree under which Guru Sahib stood was laden with mangoes. 
Bhai Sahib expressed his gratitude by serving everyone with mangoes during the December month, laying his head at Guru Har Rai Sahib Ji's feet.
Right Time to Visit The Gurudwara
There is no right time or restrictions for opening the Gurughar. You can visit Gurudwara Amb Sahib any time you want. The doors of this Gurudwara are open 24 hours.
You can come anytime to seek blessings here. Some of the localities come to this place regularly as it is a holy place. While some come to visit this place outside Mohali and seek blessings from Guru Ji.
If we consider the appropriate weather conditions, then October to April is considered pleasant to visit this place. The months from June to September can be avoided because of summer and rainy months.
Location of the Gurudwara
Gurudwara Shri Amb Sahib is located in Phase 8, Mohali, near Amb Chownk on the Mohali Stadium Road. The pin code for Phase 8 is 160062.
It is right next to Mohali Walk Mall and Opposite to Puda Office. Nearby Gurudwara, the office of Punjab State Education Board and Fortis Hospital is also situated.
Contact Number
If you wish to contact the authorities of the Gurudwara Sahib, then you can call the landline number 0172 2230340 or on mobile number 08725005044.
Additionally, you can also visit the official website of the Gurughar, www.ambsahib.online.
Right Way to Offer Prayers
Every religion has its own rituals. So are the certain rules that must be followed for visiting the Gurudwara. 
There is not any particular dress code but it is advisable to wear simple clothes to visit the Gurudwara. Also, you need to put on a piece of cloth, dupatta, or handkerchief on your head.
At Gurudwara, there is a tradition that the head must always be covered in the presence of Guru Granth Sahib Ji, so it is mandatory to cover your head. Also, wear clothes that are not revealing body parts as the devotees sometimes consider it disrespectful.
Also, you have to keep your shoes outside the Gurudwara. So, you will always find a Jorha Ghar or a shoe stand where you can keep them outside the Gurudwara.
Facilities Provided at Gurudwara Shri Amb Sahib
The Gurudwara Amb Sahib has a huge complex to tackle the situation of rush at the Gurudwara. You can also book hotels while visiting the Gurudwara from outside Mohali but staying at the Sarai in Gurudwaras are pocket friendly.
You can stay per night at a very affordable cost at Bhai Kuram Singh Sarai which has 60 rooms. Also, the Langar facility is also available 24 hours in the Gurudwara. The food served in the Langar is prepared by taking all the cleanliness measures. You can eat at Gurudwara Sahib at any time of the day.
How to Reach?
Gurudwara Amb Sahib Ji is located in one of the popular sectors of Mohali city. Phase 8 in Mohali is easily accessible through Auto, Car, or Local Bus services. You can reach here –
By Road 
If you are traveling to Gurudwara Amb Sahib via road, then you can easily reach this place by taking an auto, cab, or bus. The nearby bus terminal is just a distance of 500 m away from the Gurudwara. You can also take inter state bus from Sector 43, Chandigarh, and Sector 17, Chandigarh.
By Air
The Chandigarh International Airport is 12.9 Km from Gurudwara and will approximately take 25 minutes to reach via road. You can hire an auto or take a cab to reach Gurudwara Amb Sahib.
By Rail
If you are coming to Mohali by train, you can easily find autos and cabs to the Gurudwara. It is located at a distance of 5.1 Km and will approximately take 13 minutes to reach the place.
Nearby Places to Visit
Mohali is a city that shares the border with "The City Beautiful – Chandigarh". If you are in Mohali for the Darshan of Gurudwara Shri Amb Sahib, you can also enjoy a short trip to Chandigarh, Mohali, & Panchkula.
In Mohali, you can visit several nearby places like Gurudwara Singh Shaheedan, VR Punjab Mall, Phase 3b2 and Phase 7 Markets, Bestech Square Mall, Chappad Chiri, Chattbirh, etc.
Other than this, you can also visit places like Rock Garden, Rose Garden, Sector 17, Sukhna Lake, and many more places.
Overall, Mohali and Chandigarh are a hub for tourists. You can also visit Nadda Sahib Gurudwara which is easily accessible through Cabs from Gurudwara Amb Sahib.
Wrapping Up
This article has covered all the important aspects related to Gurudwara Shri Amb Sahib in Mohali. Devotees come here to pay homage to Guru and seek his blessings. 
This place is always full of devotees and you will always find a crowd outside the Gurudwara. People visit this holy temple all day and can enjoy the Langar as well. If you haven't been there so far, pack your bags and visit this place to seek Guru's blessings.
Thunder Zone Mohali Amusement Park
Do you want to have a fun-filled day with your family and friends? Head to Thunder Zone Mohali Amusement Park without a single doubt. It is one of the best and most beautiful amusement and water parks in the whole of northern India, located just 13 km from Chandigarh and 4 km from Mohali. 
Inaugurated on 15th May 2002, it covers an area of 11 acres amid scenic surroundings. Further, it offers a variety of thrilling rides, slides, and pools for all age groups, as well as lush green lawns, restaurants, and other facilities. 
Today we will give you a comprehensive guide to this Mohali Amusement Park, including its attractions, timings, tickets, location, and more.
Attractions at Thunder Zone Mohali Amusement Park
It offers a variety of attractions that cater to everyone's preferences, be it thrilling rides, serene pools, or entertaining activities. Below are some of the attractions you can experience at the amusement park:
Amusement Park at Thunder Zone
The amusement park has 12 exciting rides that will make you scream with joy. Some of the popular rides are: 
Octopus

Columbus

Sun'  n' Moon

Caterpillar

Music Bob

Striking Cars

Splash

Boat Club

Swinging Chairs
All these rides are suitable for kids and adults and are well-maintained and safe.
Water Park at Thunder Zone
The water park features four pools that are perfect for staying cool and refreshed during hot summer days. You can have a blast with the water waves and slides available for your enjoyment.
Wave Pool

Family Pool

Activity Pool

Kids Pool
The water park also has a Rain Dance area where you can groove to the music under the showers.
Fun Zone at Thunder Zone
There's an entire section crafted for small kids and teenagers where they can hop on different rides and play various games.
Timings of Thunder Zone Mohali Amusement Park
Summer timing-
| | |
| --- | --- |
| Sunday | 10 am–7:30 pm |
| Monday | 10 am–7:30 pm |
| Tuesday | 10 am–7:30 pm |
| Wednesday | 10 am–7:30 pm |
| Thursday | 10 am–7:30 pm |
| Friday | 10 am–7:30 pm |
| Saturday | 10 am–7:30 pm |
Winter timing- 
| | |
| --- | --- |
| Sunday | 10 am–5:30 pm |
| Monday | 10 am–5:30 pm |
| Tuesday | 10 am–5:30 pm |
| Wednesday | 10 am–5:30 pm |
| Thursday | 10 am–5:30 pm |
| Friday | 10 am–5:30 pm |
| Saturday | 10 am–7:30 pm |
Tickets Price at Thunderzone
There are different prices for tickets that allow you to explore particular sections of the park.
Amusement Park: INR 700 per person (all rides)

Water Park: INR 1000 per person (all rides)

Combo (Amusement + Water Park): INR 1150 (all rides)
Additionally, if you only want to access the water park without going on any rides, there is an entry fee of INR 300 to INR 500. 
Note: Children below 3 feet in height can enter for free.
Location of Thunder Zone Amusement Park in Mohali
Thunder Zone is located at Mohali Sirhind Road, Chandigarh, 140307. You can reach the park by various modes of transport, such as:
Car or Taxi: You can drive to the park by following NH 5 or NH 152 from Chandigarh or Mohali. The park has ample parking space for cars and buses.
Bus:

You can reach by a bus from Chandigarh or Mohali to Landran or Swara village and then take an auto-rickshaw or a taxi to the park.

Train:

You can book a train to Chandigarh Railway Station or Mohali Railway Station and from there take a bus or a taxi to the park.

Air:

Lastly, you can take a flight to Chandigarh International Airport or Mohali International Airport and then take a bus or a taxi to the park.
Parting Words
If you want to have a memorable day out near Chandigarh or Mohali, Thunder Zone is the place you should be going. Additionally, it's a water and amusement park curated keeping in mind the needs of all age groups. From kids to teens, adults to seniors, everyone will have a blast here. 
Also, Thunder Zone is especially popular during summertime, drawing large crowds of visitors and residents alike. You definitely don't want to miss out on this thrilling park and the chance to create unforgettable memories. So, go and have an exciting day at Thunder Zone!
FAQs
What are the facilities available at Thunder Zone Mohali Amusement Park?
Thunder Zone provides various facilities for the convenience and comfort of its visitors, such as – 
Locker facility to store your valuables

Changing rooms and showers to freshen up

Drinking water facilities throughout the park

Restaurants and food stalls to satisfy your hunger
What are the best times and seasons to visit Thunder Zone Mohali Amusement Park?
Thunder Zone is open throughout the year, and you can visit it anytime you want. However, the best time to visit it is from March to October.
Should I bring food to the Thunder Zone?
No, there is no need to bring food to the park, as there are restaurants inside the property. You can relish different delicacies here at a reasonable price.
How can I book tickets for the amusement park?
You can buy tickets from the counter once you reach the park, or you can call them at +91 98887 82220 to enquire about the ticket price and book them.
Reputed 5 ICSE Schools in Chandigarh 2023-24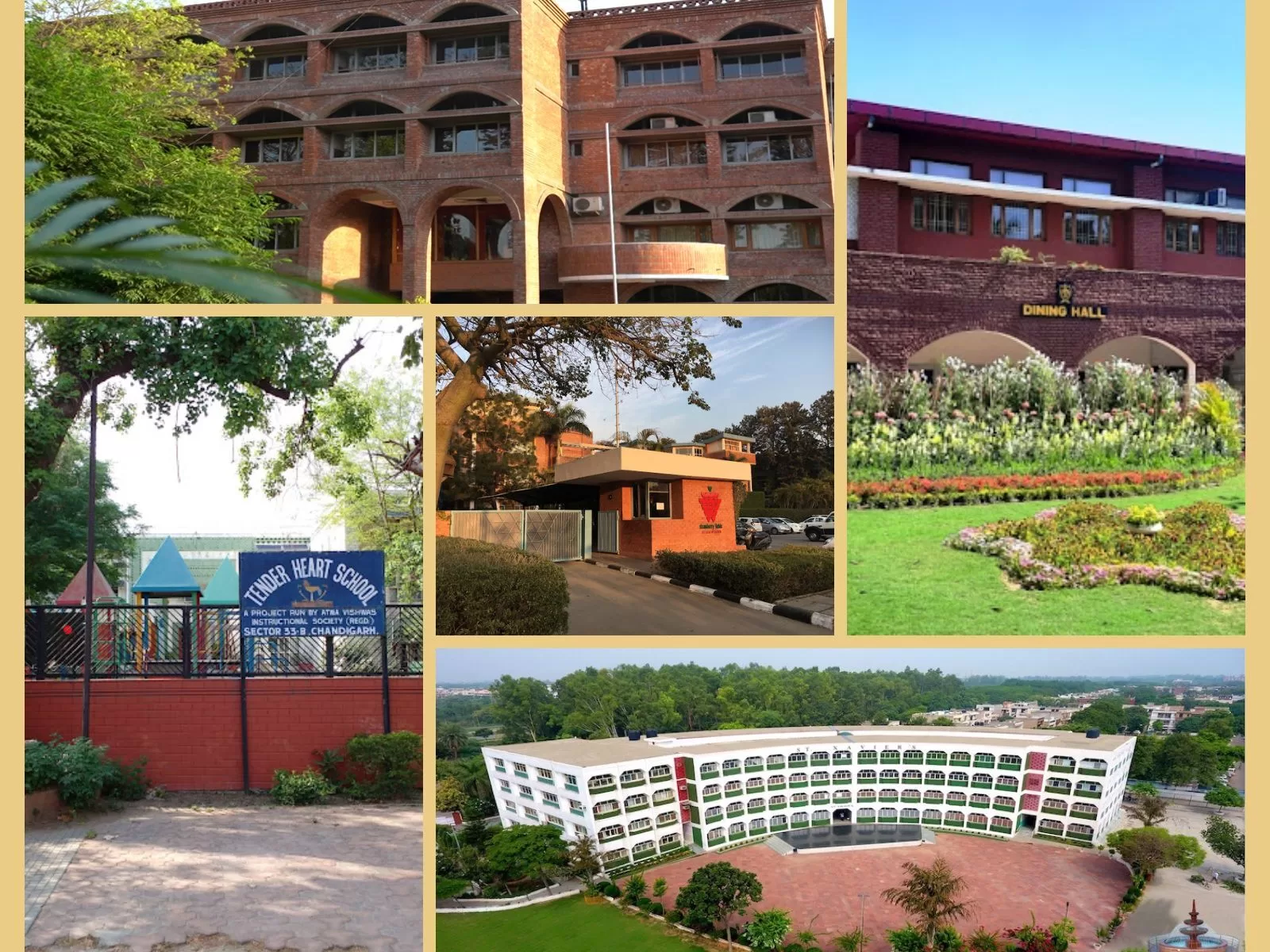 Considering the ICSE schools in Chandigarh, there are 5 reputable schools. Also, they contribute a lot to maintaining high standards of education in the city. Overall, the city boasts various best schools in Chandigarh, but these schools come in the list of the top 10 schools in Chandigarh. 
Besides, these educational institutes prioritise academics and nurture students' skills, talents, character, and leadership skills. Let us continue reading the entire article and explore each ICSE school in detail. 
Best ICSE schools in Chandigarh with Details 
If you have a child of your own and want to enroll him/her in one of Chandigarh's ICSE schools, you have the list here. 
1. St. Xaviers Senior Secondary School
Mr.Andrew John Gosain founded St. Xavier's Schools, a missionary venture owned, established, and administered by International Christian Education Foundation. Additionally, the school has an affiliation with the Council for I.S.C.E., New Delhi. 
Furthermore, with a motto of "Live For Others," the school imparts good values to its students. Over the years, St. Xaviers Chandigarh has an excellent reputation in not only education but sports, cultural activities, and extracurricular activities too. 
To get admission to the school, the admission fee structure is as follows – 
Admission Fee Structure in the 2023 to 2024 Session

Admission Fee for 1st Child 

Rs. 45,000.00

Admission Fee for 2nd Child 

Rs. 40,000.00

Admission Fee for 3rd Child

Rs. 35,000.00
Also, the Chandigarh branch of St Xaviers has well-equipped Physics, Chemistry, and Biology labs. Not to miss there is a computer lab and library room that are available for students who will benefit from them. Although Chandigarh is the first school branch established, it has spread to Mohali, Panchkula, and Zirakpur too. 
Address:

2302, Sarovar Path, 44C, Sector 44, Chandigarh, 160044

Contact Info:

0172 260 7079

Referral Website:

https://stxaviers.com/
2. St. Stephens School, Chandigarh 
Certified as a Minority Educational Institution, St. Stephens School is another ICSE school in Chandigarh. It is a Roman Catholic school founded by an Anglo-Indian Catholic principal named Harold Anthony Patrick Carver in the year 1982. 
Further with the motto of "Always Aim Higher," the students work hard to achieve greater success. As far as the school's facilities are concerned, it has a multi-purpose hall for gymnastics, badminton, table tennis, and basketball. 
The admission fee that a parent has to pay once is Rs. 25,000.

Additionally, there is a caution money of Rs. 7500. Note that it is refundable.

The school fee worth Rs. 21665 is per quarter fee. 
Further, there are several extracurricular activities like House shows, competitions, treks, tours, excursions, etc. If you want to know more about the school, visit the official website mentioned below and prepare for the next session's admissions. 
Address:

St. Stephens School, Shanti Path, Sector 45-B, Chandigarh, 160047

Contact Info:

0172 260 5767

Referral Website:

http://stephenschandigarh.com/
3. Strawberry Fields High School
Another ICSE school on the list of the top schools in Chandigarh is Strawberry Fields High School. It is a private school that has an affiliation with the Indian Certificate of Secondary Education and Indian School Certificate. 
The students of this school benefit from the challenging and playful learning environment. Besides, the school opens its doors to economically disadvantaged sections of society absolutely for free. Also, the school believes in inclusivity. Thus, there is a special department of trained counsellors to meet the needs of special children. 
Note that there are various admission criteria as per the classes of the child. 
| | |
| --- | --- |
| Fees for the 2023-24 Session (KG) | Amount  |
| Admission Fee (Non-Refundable) | INR 1,20,000.00 |
| Tuition Fee (Annually) | INR 1,74,000.00 |
Fees for the 2023-24 Session (Classes 1 to 8)

Amount 

Admission Fee (Non-Refundable)
INR 1,15,500.00
Tuition Fee (Annually)

Classes 1-5 (INR 1,74,000.00)
Classes 6-8 (INR 1,67,400.00)
Lastly, the students who want to get into 9th or 11th standards will have to sit for an entrance exam. Refer to the website to get the syllabus to prepare for it. 
4. Tender Heart School
Established in the year 1973, Tender Heart School in Chandigarh follows one motto "Onward with Courage."  Not only has it an encouraging educational system but it also has a progressive environment for student's overall development. 
Additionally, this school believes in imparting practical knowledge and offering them the best facilities and infrastructure. Academics and extracurricular activities are extensive in this school. Thus, if you are interested in enrolling in Tender Heart School, check out the admission information given below. 
| | | | |
| --- | --- | --- | --- |
| | NUR, LKG & U.KG | I-V | VI-X |
| Admission Fee | Rs. 43,000 | Rs. 43,000 | Rs. 43,000 |
| Annual Fee | Rs. 8,200 | Rs. 8,200 | Rs. 8,200 |
| Tuition Fee | Rs. 14,500 | Rs. 15,000 | Rs. 15,400 |
Go to the below-mentioned school's website to know the activities organised for students. Since it has a proper academic curriculum, students will profit from one of these ICSE schools in Chandigarh. 
5. Yadavindra Public School
YPS Mohali is not just one of the best ICSE schools in Chandigarh but nearby areas too. Founded on April 9, 1979, this school is a tribute to the father of Maharaja Amarinder Singh. Furthermore, in the list of the top "Co-Ed Day Cum Boarding School Category, (2020-21)" YPS got the ranking of No.1 in the Punjab and 8th rank in India. 
Some of the facilities available in the YPS, Mohali school are – 
Boarding House 

Sports Infrastructure

Technology (Robotics Lab, Computer Education, Safety & Security)

State-of-the-Art Labs

Library

Counselling Cell

Messing 

Medical Facilities

Transport Facility
Also, the school is not only serious about imparting education to its students but also believes in giving exposure to them. (International exchange programs, in-house clubs, sports tournaments, interschool games, visual and performing arts, treks & tours, voluntary community service, etc)
As the 2023-24 session started in April, you must check out the official website to know about the admission process and fee structure. 
Address:

  PP3P+4XX, Mohali Pind Rd, Sector 51, Sahibzada Ajit Singh Nagar, Chandigarh, Punjab 160062

Contact Info:

0172 223 2850

Website:

http://ypschd.com/
The Bottom Line 
Here is the final list of the top 5 reputed ICSE schools in Chandigarh, that are well-established. They have the best educational system, along with a set curriculum to promote extracurricular activities. Further, give them a call or visit their website to start the process of your ward's admission. Good Luck!