Top 5 Institutes for Air Hostess Courses in Mohali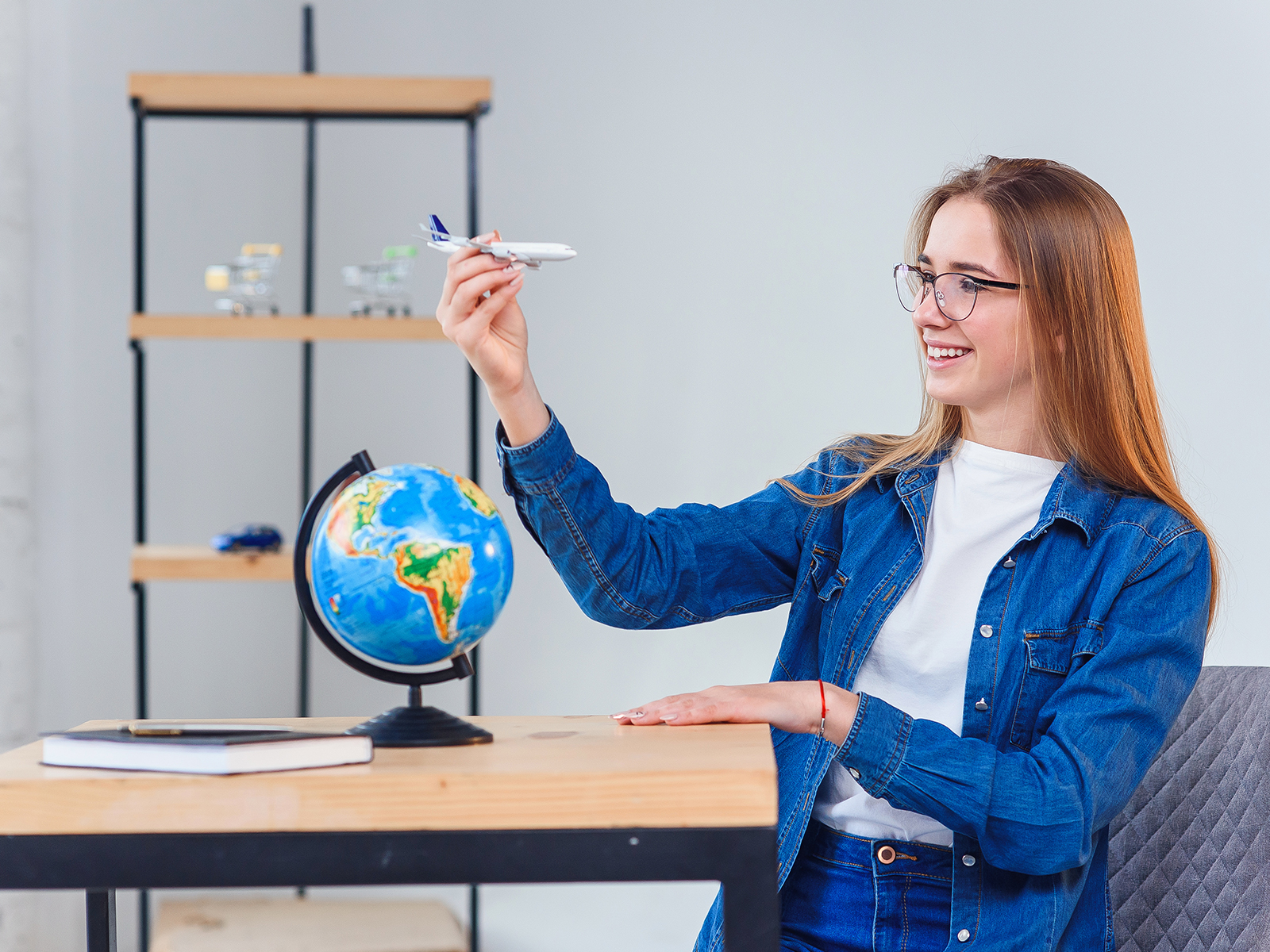 Air hostess courses in Mohali can be tricky sometimes. You know, when I was in college, I had a friend who had got air hostess training, and after spending all that money and time, she left the course.
Do you know why? Slowly she started to realize that the course wasn't working for her. She felt that the things they were teaching had nothing to do with being a cabin crew. 
The schedule was hectic, and she could manage her studies and training simultaneously. Moreover, that girl spent more than lakhs for that 6-month training. 
To be very honest, I found that pretty unrealistic. I mean, I never went to an air hostess training institute in Mohali, but I have seen many of my friends being fooled by the luxurious institutes that never taught them anything valuable.
So, am I trying to say that Mohali does not have any good air hostess courses? Yes, Tricity does have some good options. All you need to do is just be a little bit careful while enrolling your name. 
Before depositing the fees, you need to make sure that the institute has some good reviews and see whether the previous students are actually placed or not. 
I had a talk with my friend, and she told me the necessary traits that an ideal air hostess training should have. So, keeping that in mind, I have shortlisted these 5 institutes.
That being said, let's start with the first one on our list. 
1. Aerofly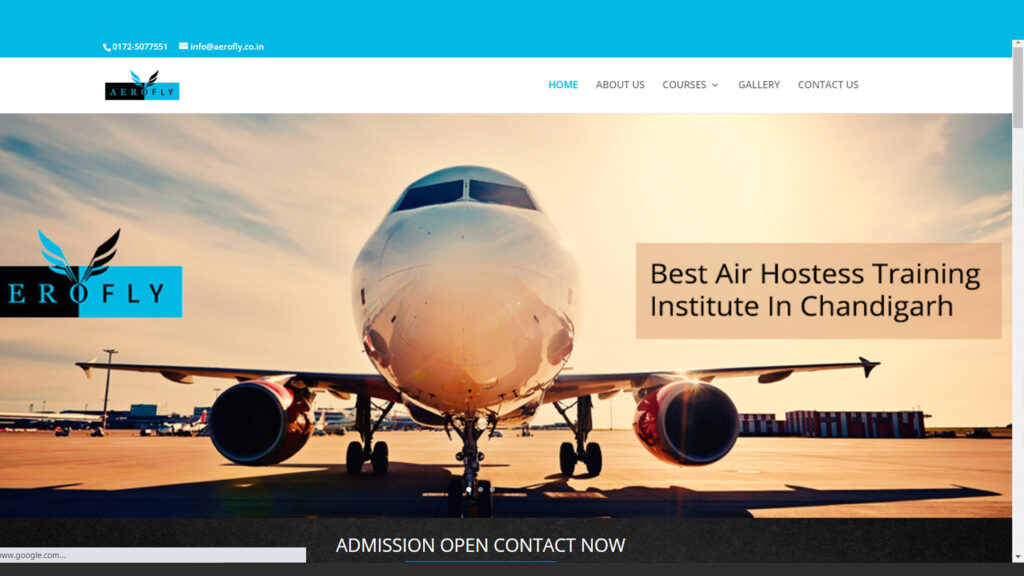 Okay, before I start, I want to make a few things clear. You might not find any air hostess training institutes in Mohali. And even if you do, I'm not sure about the quality. So, What I have done here is just combine Chandigarh and the related areas.
After all, it is about getting the best training, right? So, let's start, shall we? 
The first institute is Aerofly. The institute is one of the best air hostess training institutes in Chandigarh. Apart from that, they also provide other management and hospitality training like travel management, cosmetology, emergency management, etc. 
Here are the essential details – 
Address: Aerofly International Aviation Academy, SCO 68, 4th Floor, Sector–17D, Chandigarh,160017
You can also check their official website and choose the course. The number given there is available for all queries. 
Moreover, the majority of the students are reported to be placed in just 5-6 months. So, why don't you try too!
2. Frankfinn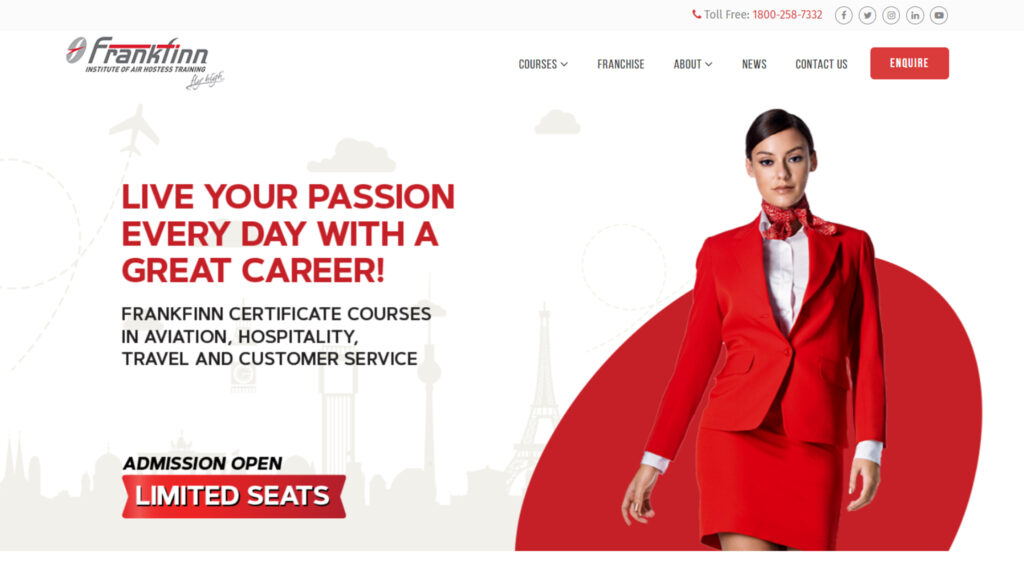 I know you have seen the amazing Aliba Bhatt in the ad, and it was fascinating. Well, Frankfinn is one of the most popular air hostess training institutes in Mohali. 
They provide a wide range of courses related to the hospitality and management industry. Even if you don't want to be an air hostess and want to establish your career in the retail industry, you can join it. 
The classes are flexible, so you can choose a time frame at your convenience. As per as the air hostess training fees are concerned, they might be a little higher because of their reputation and market value. 
The contact details are as below – 
Address: 1st SCO 118, 120, Sector 34A Rd, Sector 34A, Chandigarh, 160022
Phone: 084489 80664
You can join the training after finishing your +2 as well. Air hostess training has nothing to do with your educational degree. Some start after finishing 12th, while on the other hand, some institutes demand a graduation degree. 
My friend was doing both. If you ask my opinion, completing your graduation first is a better choice. This way, you will have multiple options to choose from. 
My friend was pursuing both things simultaneously. You can do that too.  The competition will be tough here because almost 9 children out of 10 prefer Frankfinn. So, you might have to put extra effort into getting a placement. 
3. Oscar AHA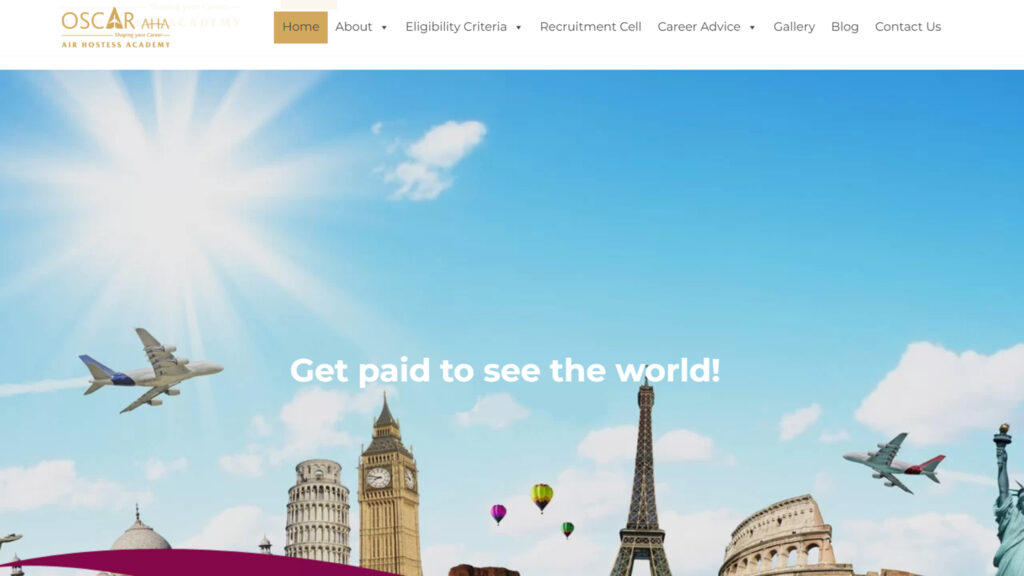 When it comes to air hostess courses, Oscar AHA is also a good option for you. Why? Let's see what it has to offer. 
Oscar AHA works closely with all the airline services, and the students are getting placed in reputed airlines like Indigo or Air India in just 5-6 months of their training. 
Oscar AHA works on personality development too. So, it will never happen that you will return empty-handed. Here are the contact details – 
Address: SCO 134-135, 4th Floor, above Axis Bank, Sector 34A, Chandigarh, 160022
You can also visit their site and find all the necessary information about cabin crew. 
4. Aptech Aviation Academy
Aptech Aviation Academy provides all courses that are related to hospitality. You know, I have seen many students joining these institutes just to improve their personality and get an idea about all the industries they can get a job in.
So, if you are one of them, you can simply visit their website and find plenty of courses designed for each industry. You have to go somewhere, right? So, why don't you start with Aptech?
The contact details are as follows – 
Address: SCO-9, First Floor (Front Side, Sector 11, Panchkula, Haryana 134109
I know it is not in Mohali. I told you we are just extending the boundaries a little bit to provide you with the best information. 
5. Achievers Perfect Career Institute
Achievers Perfect Career Institute provides air hostess courses that are designed to teach students in their own way.
However, according to some ex-teachers, the education style is not up to the mark. It might also happen that the quality has increased now.
Make sure you talk to the ex-students before enrolling. The contact details are mentioned below – 
Address: SCO 158-159 1st Floor, Sector 34A, Chandigarh, 160022
You can go there and talk to them straight. 
Final Words
It does not matter whether you are looking for air hostess courses or digital marketing courses. The institute should provide you with quality education and updated market insights. 
So, looking at the brochures alone will not help. Communicate properly with them to understand their style and approach to training. Don't forget the fees part as well. Don't pay unnecessary fees to the institutes. This way, you will surely land in a safe place. 
Top 7 Colleges for MBA in Chandigarh – Shaping Your Future in the City Beautiful
When it comes to pursuing a Master of Business Administration (MBA), selecting the right college is a crucial decision that can significantly impact your career prospects. Chandigarh is home to several prestigious institutions that offer top-notch MBA programs. In this article, we will explore the top 7 colleges for MBA in Chandigarh, helping you make an informed choice that aligns with your educational and professional aspirations.
What Makes Chandigarh an Ideal MBA Destination?
Chandigarh stands out as an ideal MBA destination for several compelling reasons. First and foremost, its serene and well-planned environment fosters a conducive atmosphere for focused academic pursuits. 
The city's strategic location in North India provides easy access to major corporate hubs and industries. Companies here also offer abundant internship and networking opportunities.
Moreover, Chandigarh is home to prestigious MBA institutions like the University Business School (UBS) at Panjab University and GGDSD. These colleges for MBA in Chandigarh are known for their rigorous academic standards and industry connections. 
The city's emphasis on education and innovation ensures that MBA students receive a holistic and globally competitive education. With its blend of academic excellence, professional growth prospects, and a high quality of life, Chandigarh is undoubtedly a prime choice for those aspiring to pursue an MBA.
Top MBA Colleges in Chandigarh
Here are some of the prominent MBA colleges in Chandigarh.
1. University Business School, Panjab University
Address: Arts Block III, Madhya Marg, Panjab University, Sector 14, Chandigarh, 160014
The University Business School at Panjab University is undoubtedly a top choice for pursuing an MBA. With a rich heritage and a legacy of producing industry leaders, this institution stands out. What makes it exceptional is not just its academic excellence but also the practical knowledge it imparts.
Here, you'll find a faculty that's not just well-versed in theory but also deeply connected to the corporate world. This translates into a well-rounded education that prepares students for the real challenges of the business world.
Moreover, the strong alumni network is a valuable asset. It opens doors to a world of opportunities, making it easier for graduates to secure internships and job placements in renowned companies.
In a nutshell, if you're looking for a holistic MBA experience that combines academic rigor with practical insights and a promising future, the University Business School at Panjab University is the place to be.
2. University Institute of Applied Management Sciences (UIAMS), Panjab University
Address: QQ36+7X8, South Campus, Behind P.U. Alumni House Udyog Path, Punjab University Rd, Sector 25, Chandigarh, 160014
The University Institute of Applied Management Sciences (UIAMS) at Panjab University is a renowned institution for pursuing an MBA. With a commitment to providing quality education, UIAMS stands out for its practical approach to management studies.
What sets UIAMS apart is its strong industry connections. The institute regularly conducts guest lectures, workshops, and internships in collaboration with leading corporate organizations. This hands-on exposure equips students with real-world skills and knowledge, making them job-ready.
UIAMS places a significant emphasis on holistic development, ensuring that students not only excel academically but also develop leadership qualities and a sense of social responsibility. If you're looking for an MBA program that combines academic rigor with practical experience, UIAMS at Panjab University is a top choice. Your journey here promises not just education but a transformative experience that prepares you for success in the corporate world.
3. Chitkara Business School
Address: Chandigarh, National Highway, 7 64, Tehsil, Rajpura, Punjab 140401
Chitkara Business School, located in the vicinity of Chandigarh, is a stellar choice for pursuing your MBA. Renowned for its innovative approach to education, a faculty comprising industry experts, and a curriculum designed to meet the demands of the ever-evolving business landscape. This business school provides students with a holistic MBA experience.
One of the standout features of Chitkara Business School is its emphasis on entrepreneurship and innovation. The school fosters an entrepreneurial spirit among its students, encouraging them to think outside the box and develop innovative solutions to real-world business challenges.
Moreover, Chitkara Business School boasts an impressive track record of placements in reputed companies. Its strong industry connections and dedicated placement cell ensure that students have access to a wide range of internship and job opportunities, helping them kickstart their careers on a solid footing.
If you're seeking a forward-thinking MBA program in Chandigarh or its vicinity, Chitkara Business School is undoubtedly a top contender. It's a place where you can nurture your business acumen, explore your entrepreneurial aspirations, and embark on a rewarding career journey.
4. Chandigarh University
Address: CHANDIGARH UNIVERSITY, NH-05, Ludhiana – Chandigarh State Hwy, Punjab 140413
Chandigarh University, situated in Gharuan, is a renowned destination for MBA aspirants. With its modern infrastructure and innovative teaching methods, the university offers a dynamic learning environment. What sets it apart is its wide array of MBA specializations, allowing students to tailor their education to their career goals.
The university's strong industry connections open doors to internships and placements in top companies. Moreover, campus life is vibrant, fostering holistic development through various clubs and activities.
Whether you aspire to be an entrepreneur or a corporate leader, Chandigarh University equips you with the skills and knowledge needed to excel in the competitive business world. If you're seeking a quality MBA education combined with a rich campus experience, Chandigarh University in Gharuan should be high on your list.
5. Gian Jyoti Institute of Management and Technology
Address: Phase-2, Mohali, near Bassi Theatre, Sector 54, Chandigarh, Punjab 160055
Gian Jyoti Institute of Management and Technology, located in Mohali, is a prominent institution known for its exceptional MBA programs. With a commitment to providing quality education, GJIMT has established itself as a preferred choice for MBA aspirants.
What sets GJIMT apart is its industry-oriented approach to education. The institute places a strong emphasis on practical learning, ensuring that students are well-prepared for the dynamic corporate world. Faculty members at GJIMT are experienced professionals who bring real-world insights into the classroom.
Moreover, GJIMT's campus provides a conducive environment for holistic development. The institution fosters a culture of innovation and entrepreneurship, encouraging students to think creatively and take on leadership roles.
If you're seeking an MBA program that combines academic rigor with practical exposure and a nurturing environment, Gian Jyoti Institute of Management and Technology in Mohali is a compelling choice for your educational journey.
6. Swami Vivekanand Institute of Engineering and Technology (SVIET)
Address: GMJG+78J, Village- Ramnagar, Tehsil, near Banur, Rajpura, Punjab 140401
Swami Vivekanand Institute of Engineering and Technology (SVIET) in Chandigarh offers a dynamic and enriching MBA program that can be your gateway to a successful career in business management.
What sets SVIET apart is its dedicated faculty, who bring a wealth of industry experience to the classroom. This ensures that you not only grasp the theoretical concepts but also gain real-world insights. The institute also encourages innovation and entrepreneurship, fostering a creative and competitive environment.
At SVIET, you'll find state-of-the-art facilities, a supportive learning atmosphere, and a range of specializations to choose from, allowing you to tailor your MBA to your career aspirations. Whether you're interested in Marketing, Finance, Human Resource Management, or Information Technology, SVIET provides a platform for your growth and success. The MBA program here embarks you on a journey of learning, growth, and career advancement.
7. Indo Global Group of Colleges
Address: New Chandigarh, District Mohali, 18 kms from PGI-PU Gate, Abhipur, Punjab 140109
Indo Global Group of Colleges, located in Chandigarh, is a promising destination for MBA aspirants. This institution offers a diverse range of MBA specializations, including Marketing, Finance, Human Resource Management, and Information Technology.
What sets Indo Global apart is its focus on industry relevance and practical learning. The curriculum is designed to equip students with the skills and knowledge needed to excel in the competitive business world. Experienced faculty members and industry experts contribute to a dynamic learning environment.
The college also emphasizes holistic development, with various extracurricular activities and workshops to enhance students' soft skills and leadership qualities.
Moreover, the campus provides a conducive atmosphere for learning, with modern facilities, a well-stocked library, and state-of-the-art labs. Indo Global Group of Colleges is a promising choice for those seeking a well-rounded MBA education in Chandigarh.
Final Thoughts
Choosing the right MBA college is a critical step in shaping your future. Chandigarh, with its vibrant academic environment and diverse options, offers an excellent platform for MBA aspirants. Whether you prefer a traditional institution like UBS or a dynamic setting like Chandigarh University, you can be confident that Chandigarh's MBA colleges will equip you with the skills and knowledge needed to thrive in the competitive business world.
Explore Gian Jyoti Institute of Management and Technology, Mohali: Nurturing Excellence in Education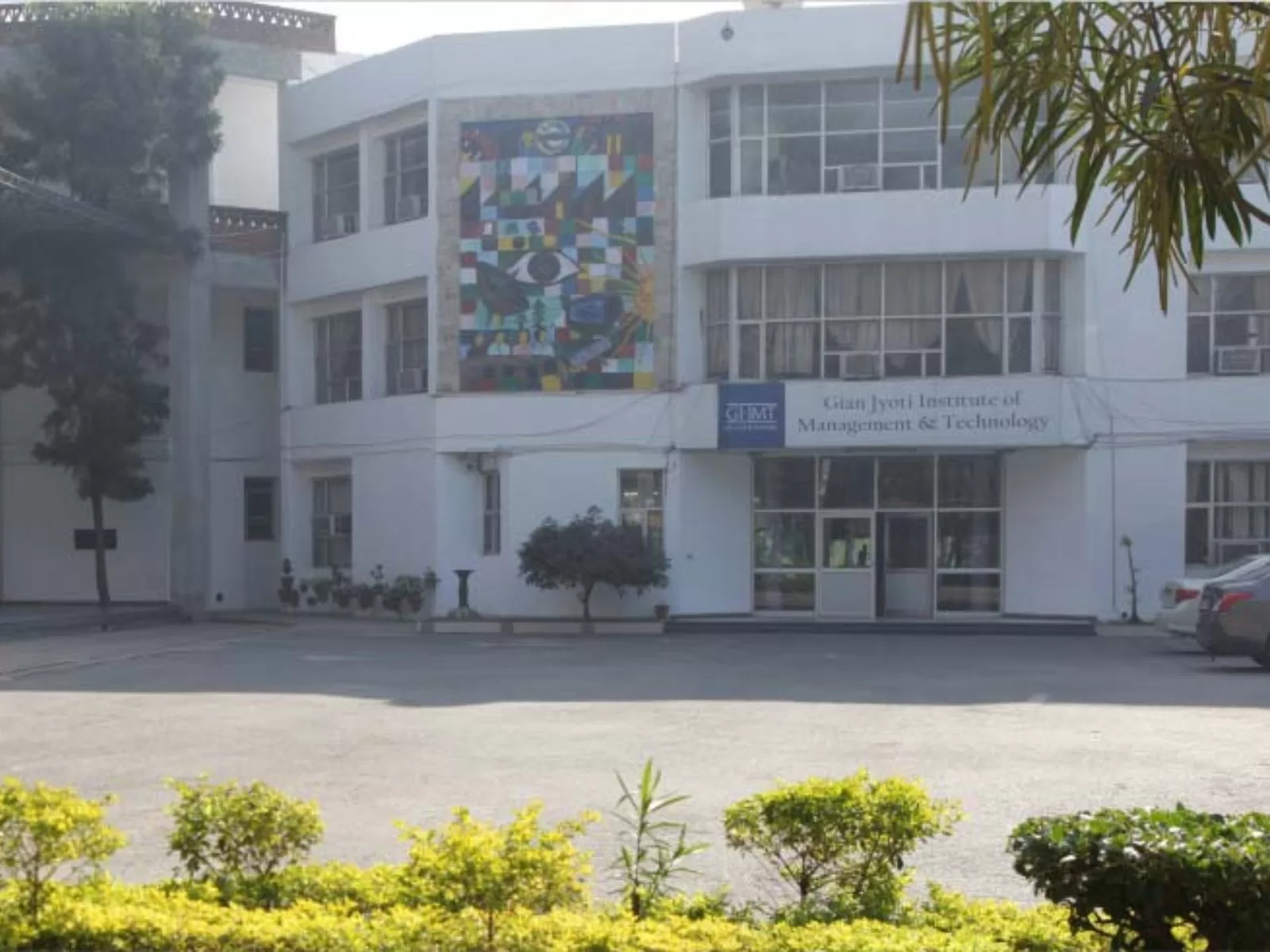 In the fast-paced and ever-evolving landscape of higher education, institutions that stand out for their commitment to academic excellence and holistic development are like shining stars. One such institution that has been consistently making its mark is the Gian Jyoti Institute of Management and Technology in Mohali, Punjab, India. 
GJIMT has emerged as a beacon of quality education, setting new standards in the field of management and technology. It has been established with a vision to empower students with knowledge and skills to thrive in the globalized world, 
The institute is ISO certified 9001:2008 and is approved by IKG Punjab Technical University and All India Council of Technical Education. It has grown over the years to become a renowned name in the education sector. 
This article delves into the history, infrastructure, academic programs, faculty, and overall spirit of GJIMT to provide a comprehensive overview of this prestigious institution.
History and Foundation
GJIMT was founded in 1998 under the patronage of the Gian Jyoti Educational Society. It was established with the noble aim of bridging the gap between education and industry by providing students with the best of both worlds. 
Their foresight and dedication laid the foundation for an institution that would go on to transform the lives of countless students.
Over the years, GJIMT has remained committed to its mission of imparting quality education and nurturing young minds to become leaders and innovators. It has consistently strived to keep pace with the rapidly changing dynamics of the global education landscape.
Infrastructure and Facilities
One of the key strengths of GJIMT is its state-of-the-art infrastructure and world-class facilities. The sprawling campus is equipped with modern classrooms, well-equipped laboratories, a well-stocked library, and spacious auditoriums. 
The institution places a strong emphasis on providing students with a conducive learning environment that fosters creativity and critical thinking.
The library at GJIMT deserves a special mention. It houses an extensive collection of books, journals, research papers, and digital resources that cater to the diverse academic needs of students and faculty. 
The institution also subscribes to various online databases and e-journals, ensuring that students have access to the latest research and information in their respective fields.
Apart from academic facilities, GJIMT also offers a host of amenities to ensure the overall well-being of its students. These include a cafeteria serving nutritious food, sports facilities, transportation services, Wi-Fi facilities, and a medical center to address any health concerns.
Academic Programs
GJIMT offers a wide range of academic programs that are designed to cater to the evolving needs of the industry and the aspirations of students. The institution is renowned for its management and technology programs, which are highly sought after by students aspiring to excel in these fields.
1. Management & Commerce Programs
GJIMT offers a variety of management programs, including undergraduate and postgraduate degrees in the field of Commerce and Management. It further varies to the areas of Business Administration, Marketing, Finance, Human Resources, and International Business. 
The curriculum is designed to provide students with a strong foundation in management principles, along with practical exposure through internships and industry interactions.
2. Technology Programs
In an era driven by technology and innovation, GJIMT offers cutting-edge Master's in Computer Technology programs that equip students with the skills needed to thrive in the digital age. 
These programs include Bachelor's and Master's in Computer Applications.
3. Ph.D. Programs
GJIMT encourages research and innovation among its students and faculty. It has established research centers and collaborations with industry partners to facilitate research projects and promote innovation.
You can choose to complete your Doctorate in Finance, Marketing, Management, HRM, Economics, and Operations Management.
Faculty Excellence
The faculty at GJIMT comprises a mix of experienced academicians and industry experts, bringing a unique blend of theoretical knowledge and practical insights to the classroom.
The institution places great emphasis on faculty development. They keep encouraging professors to engage in research, attend conferences, and stay updated with the latest developments in their respective fields. 
This commitment to faculty excellence directly benefits the students, as they receive guidance and mentorship from experts who are passionate about teaching and research.
Industry Collaborations and Placements
GJIMT understands the importance of industry-academic partnerships in preparing students for real-world challenges. 
To this end, the institution has forged strong collaborations with leading companies and organizations in various sectors. These collaborations take the form of guest lectures, workshops, internships, and placement opportunities.
The placement cell at GJIMT is dedicated to ensuring that students have access to lucrative career opportunities upon graduation. The institution has a remarkable track record of placing students in renowned Indian companies, especially in the banking sector. 
This success can be attributed to the institution's focus on skill development, personality enhancement, and soft skills training, which are integrated into the curriculum.
Student Life and Extracurricular Activities
Education at GJIMT goes beyond the confines of classrooms and textbooks. The institution places a strong emphasis on holistic development, encouraging students to participate in a wide range of extracurricular activities. 
These activities include sports, cultural events, clubs, webinars, NCC, and several societies that cater to diverse interests. These college fests, sports tournaments, and cultural events are eagerly awaited by students and provide a platform for them to showcase their talents and creativity. 
This holistic approach to education ensures that students not only excel academically but also develop essential life skills such as leadership, teamwork, and communication.
Social Responsibility and Community Engagement
GJIMT is not only focused on academic excellence but also on giving back to society. The institution actively engages in social responsibility initiatives.
It also encourages students to participate in community service projects such as blood donation camps and eye check-up camps. Through these endeavors, students learn the importance of empathy, compassion, and responsible citizenship.
The Bottom Line
Along with several government colleges in Chandigarh, GJIMT in Mohali, Punjab, also shines as a beacon of academic excellence, innovation, and holistic development. Since its inception, GJIMT has remained dedicated to its mission of nurturing young minds, empowering them with knowledge and skills, and preparing them to thrive in a rapidly changing world.
As GJIMT continues to evolve and adapt to the changing needs of the education sector, it remains steadfast in its pursuit of excellence. With a bright future ahead, GJIMT will undoubtedly continue to inspire and empower generations of students to achieve their dreams and make a positive impact on the world.
10 Historic Palaces and Forts in Punjab You Must Visit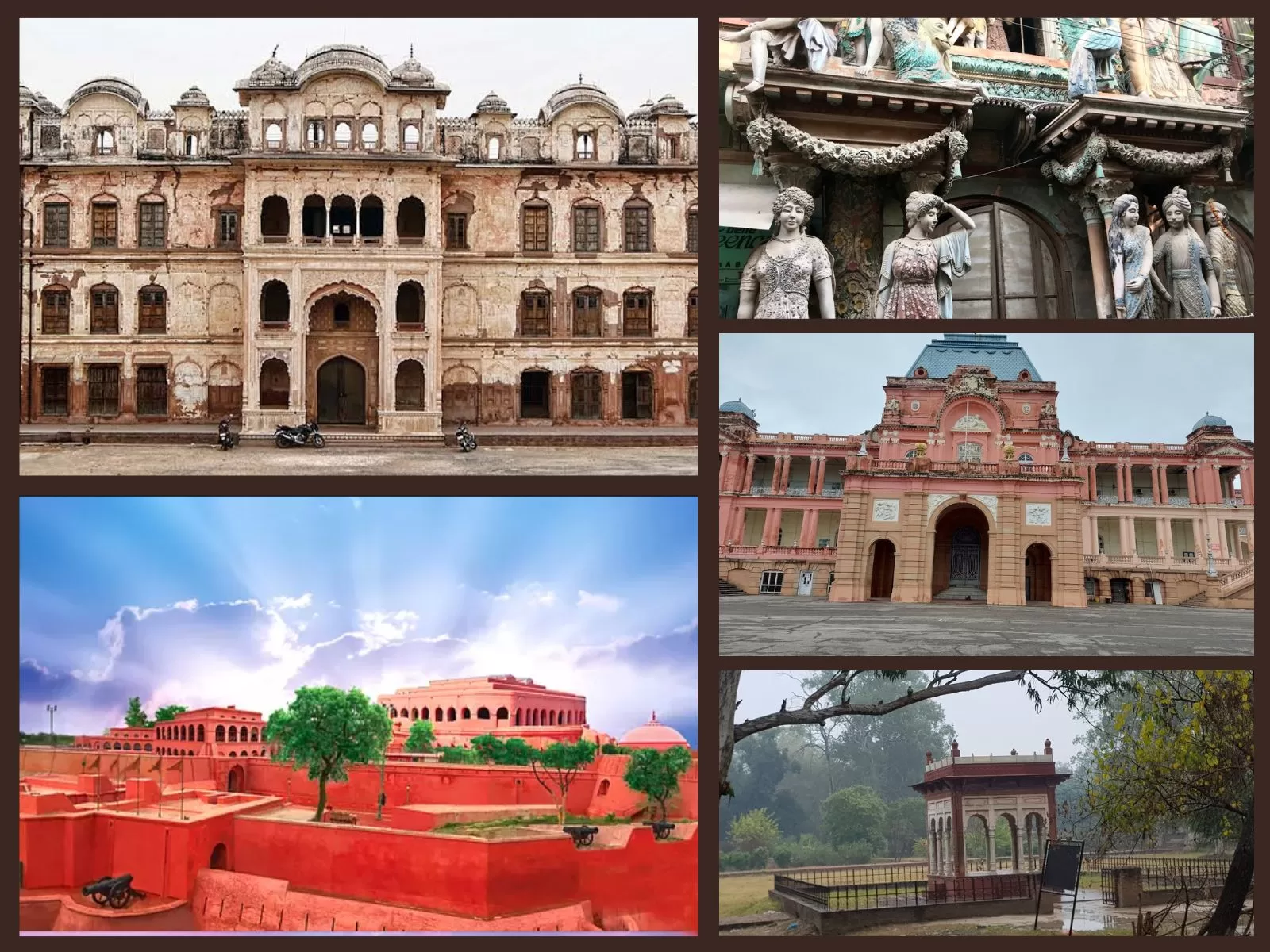 Punjab, known as the Land of Five Rivers, is not only famous for its vibrant culture, delectable cuisine, and warm-hearted people but also for its rich historical heritage. The state is dotted with numerous historic palaces and forts that narrate tales of valor, grandeur, and architectural excellence. In this article, we will take you on a virtual tour of some of the most magnificent palaces and forts in Punjab, India.
1. Qila Mubarak, Patiala
Our journey through Punjab's historic palaces and forts begins with the Qila Mubarak in Patiala. Qila Mubarak, located in Patiala, Punjab, India, is a significant fortress showcasing Sikh architecture.
Its history dates back to 1763 when Sidhu Jat ruler Baba Ala Singh founded it as a mud fortress. Later, he reconstructed it with baked bricks. Interestingly, it was built atop an existing Mughal fortress created by Governor Hussain Khan.
The complex, spread across 10 acres, includes the residential palace of the Royal family of Patiala. It also has guest houses and the majestic Darbar Hall. An underground sewerage system adds to its historical significance.
Qila Androon, an integral part of the complex, boasts 13 royal chambers. These chambers are adorned with stunning mural paintings depicting scenes from Hindu mythology in the unique Patiala art style.
Meanwhile, the Darbar Hall houses a collection of rare artifacts like cannons, swords, shields, and even daggers associated with Guru Gobind Singh.
Despite its historical value, the 300-year-old Qila has suffered extensive damage. It was also listed among the "most endangered monuments" by the World Monuments Fund in 2004.
Moreover, restoration efforts are underway to preserve this cultural gem for future generations. It has been supported and funded by various organizations including the Indian National Trust for Arts and Cultural Heritage and the Archaeological Survey of India
2. Bahadurgarh Fort, Patiala
Bahadurgarh Fort, located in Patiala, Punjab, is a historic marvel that stands as a testament to the region's rich heritage. This fort was constructed in the 17th century by Nawab-Saif-Ud-Din Mahmud in the year 1658. Later, it was renovated by Maharaja Karam Singh of the Patiala dynasty in 1837. This fort was completed in 1945 with a cost of Rs. 1 lakh.
This fort is a remarkable blend of Mughal and Rajput architectural styles. It was earlier called Saifabad and the tomb of Nawab Saif Khan is also located at a short distance from the fort. 
After the completion of the renovation, it was named after the Ninth Guru Shri Teg Bahadur Ji. The fort is sprawling on an area of around 21 square kilometers and is in a circular shape. It is surrounded by two ramparts.
Bahadurgarh Fort is not only a visual treat for history enthusiasts but also offers a glimpse into the opulent lifestyle of the Patiala royals. A visit to this fort is a journey back in time, providing a deeper appreciation for Punjab's rich and storied past.
3. Ram Bagh Palace, Amritsar
Ram Bagh is a historic garden located in Amritsar, Punjab, India. It was established during the reign of Maharaja Ranjit Singh and is renowned for its picturesque beauty. At the heart of this garden lies Ram Bagh Palace, also known as Ram Bagh Mahal.
This palace served as Maharaja Ranjit Singh's summer residence. Completed in 1831, the palace is named in honor of Guru Ram Das, the fourth guru of the Sikh faith, who founded the city of Amritsar.
Ram Bagh and its associated structures, including the palace, hold significant historical and cultural importance. The entire Ram Bagh complex, encompassing the palace and other architectural landmarks, enjoys dual recognition as both a state-protected monument and a monument of national importance.
However, the Ram Bagh complex has been embroiled in a prolonged legal dispute, which has had a detrimental impact on its preservation and restoration efforts. This legal battle has posed challenges to the conservation of this historical gem, which stands as a testament to the rich heritage and architectural splendor of the region.
4. Gobindgarh Fort, Amritsar
Gobindgarh Fort, situated in the heart of Amritsar, Punjab, is a significant historical military stronghold that holds a rich and diverse history. 
Originally known as the "Bhangian da Killa," it was founded in the 18th century by the Bhangi Misl of Dhillon Jats rulers. However, in the early 19th century, Maharaja Ranjit Singh renamed it in honor of Guru Gobind Singh, the 10th Sikh guru.
This imposing fort is constructed in a square pattern, boasting a 1,000-meter perimeter, entirely crafted from bricks and lime. It was armed with 25 cannons along its ramparts and remained under the control of the Bhangi rulers until 1805. 
Subsequently, from the mid-19th century, until India gained independence in 1947, the British army occupied the fort, implementing various defensive enhancements to adapt to evolving weaponry technology.
In recent years, Gobindgarh Fort has transitioned from a military base to a cultural treasure open to the public since February 10, 2017. 
Today, it is being transformed into a museum and theme park, serving as a repository of Punjab's rich history, making it a must-visit destination for those interested in India's vibrant past.
5. Sheesh Mahal, Patiala
Sheesh Mahal of Patiala is a dazzling architectural gem. The "Sheesh Mahal" translates to "Palace of Mirrors," and true to its name, this palace is a masterpiece of intricate mirror work.
Constructed in 1847 by Maharaja Narinder Singh, the Sheesh Mahal features walls and ceilings adorned with countless pieces of mirror. These mirrors create a breathtaking kaleidoscope of reflections. 
The palace's design is a harmonious fusion of Rajasthani and Mughal architectural styles. It showcases the artistic finesse of the craftsmen of that era.
Visiting Sheesh Mahal is like stepping into a world of opulence and beauty, where every inch is a testament to the artistic and architectural grandeur of Punjab's royal heritage. It is a must-visit destination for those seeking to immerse themselves in the history and splendor of Patiala.
6. Moti Bagh Palace, Patiala
Moti Bagh Palace, also known as the Pearl Garden Palace, is a historic gem located in Patiala, India. It was constructed in 1847 by Maharaja Narinder Singh at a considerable cost of five lakhs of rupees. This palace holds a rich legacy in the region. It's a testament to the opulence and glory of the Patiala royal family.
The palace complex consists of two main parts: the Old Moti Bagh Palace and the New Moti Bagh Palace. The former, built by Maharaja Narinder Singh, is one of the largest residencies in Asia and currently houses the Netaji Subhas National Institute of Sports (NIS), playing a pivotal role in promoting sports and physical education in India.
On the other hand, the New Moti Bagh Palace serves as the residence of the former Chief Minister of Punjab, Captain Amarinder Singh, showcasing the enduring connection between the royal heritage and contemporary politics in the region.
Moti Bagh Palace, with its historical significance and modern-day functions, continues to be a symbol of Patiala's rich cultural and political heritage.
7. Rajmahal, Faridkot
The 'Raj Mahal,' a royal palace, was constructed during the rule of Maharaja Bikrama Singh between 1885 and 1889. Notably, it was under the supervision of the then Crown Prince, who later became Maharaja Balbir Singh. 
Maharaja Balbir Singh was also the first to inhabit this splendid palace. The palace spans nearly 15 acres and boasts a stunning French design that stands out amidst the semi-desert landscape of the region. The splendor of the palace is enhanced by its expansive grassy lawns, creating a truly majestic setting.
The entrance to this architectural marvel is known as the "Raj Deori," itself a heritage building with a rich history. Today, it houses the Balbir Hospital, adding a modern touch to the historical significance of the structure.
The 'Raj Mahal' and its associated heritage, including the 'Raj Deori,' serve as proof of the rich cultural and architectural heritage of the region. It offers a glimpse into the opulence of a bygone era.
8. Jagatjit Palace, Kapurthala
Jagatjit Palace, located in Kapurthala, Punjab, is a magnificent architectural marvel that exudes royal opulence. It was built in the early 20th century by Maharaja Jagatjit Singh of Kapurthala. This grand palace is a stunning blend of Indo-Saracenic and French architectural styles.
Today, Jagatjit Palace has found a new purpose as it houses the Sainik School, dedicated to training young boys for the National Defense Academy. This transformation has preserved the historical significance of the palace while ensuring its continued use for a noble cause – nurturing future defenders of the nation.
The fusion of history, art, and education within its walls adds a unique layer of significance to the palace. 
It stands as a symbol of both Kapurthala's regal heritage and its commitment to shaping young minds for the service of the country. Jagatjit Palace continues to inspire awe and reverence for its timeless beauty and evolving purpose.
9. Phillaur Fort, Jalandhar
Phillaur Fort, also known as Maharaja Ranjit Singh Fort, is situated along the Grand Trunk Road in Phillaur, Punjab, India. Its historical significance dates back to the reign of Shah Jahan, who initially constructed an Imperial Sarai at this location.
The fort was rebuilt under the rule of Maharaja Ranjit Singh in 1809. It was a work of architectural expertise of Dewan Mohkam Chand, aided by French and Italian generals in Ranjit Singh's service. The fort's construction was a response to the British, who had erected a fort in nearby Ludhiana.
However, in 1846, after the British victory at the Battle of Aliwal, they gained control of Phillaur Fort. It remained under military control until 1890 when it was handed over to civil authorities. Eventually, it is now serving as a police training center.
In 1973, it was renamed the 'Maharaja Ranjit Singh Fort' by the Punjab Government. Since 1981, it has been utilized as the Maharaja Ranjit Singh Punjab Police Academy.
The fort holds religious significance for local Muslims as it houses the Shrine of Pir Baba Abdullah Shah Ji. It also has tombs of various Muslim figures and members of Shah Shuja's family.
10. Sheesh Mahal, Hoshiarpur
In 1911, Lala Hans Raj Jain commissioned the construction of a remarkable monument known as Sheesh Mahal. It translates to "Palace of Glass" in English.
This magnificent palace is distinguished by its extensive use of glass for both interior walls and ceilings. Inside, on the first floor, you'll find intricate paintings that vividly depict the coronation ceremony of King George V. These artworks offer a glimpse into the historical significance of the era.
On the ground floor of Sheesh Mahal, you'll discover a fascinating collection of statues dedicated to various gods and goddesses. These sculptures reflect the rich cultural and religious diversity of the region. 
Sheesh Mahal is not only a marvel of architectural beauty but also a place where history and spirituality converge. It offers visitors a unique and enchanting experience. It also stands as a testament to the artistry and historical heritage of the time it was built.
Ending Note
Punjab offers a captivating journey through time as you explore its historic palaces and forts. These forts in Punjab have witnessed the dynasties, battles, and cultural influences that have shaped the state's identity over the centuries. 
From the glory of Qila Mubarak in Patiala to the spiritual significance of Sheesh Mahal in Hoshiarpur, each site has a unique story to tell. Along with several other famous things of Punjab, these forts invite you to immerse yourself in Punjab's rich and diverse heritage. 
So, plan your visit and embark on a journey that will not only educate you about history but also leave you enchanted by the charm of Punjab's past.